Chapter 6
About Wheelchairs
Did you notice Nancy's wheelchair in the picture of the two of us at the Taj Mahal? It is probably unlike any chair you have seen before, but the importance of its design should be immediately apparent to you. How many times have you nearly been thrown out of a regular wheelchair because the front wheels were too narrow? Nancy's chair has big, soft front wheels that don't get caught in water run-off drains, cobblestones, ruts or cracks in sidewalks.
Ever tried to push a wheelchair in sand where narrow wheels sink in. And how about going "off trail" or down a narrow pathway in the woods where your wheels will constantly "trip" over branches or tree roots?
The chair we use eliminates all of that. It is essentially a 4-Wheel Drive (4WD) chair that permits us unbelievable flexibility because it comes with two completely different sets of wheels, permitting Mix 'n Match depending on the terrain.
Here is a good example of extreme terrain. The two of us are at an "Arabian Nights" celebration, a party thrown by Seaborn Cruises for its passengers. We are in the middle of the desert, surrounded by sand, somewhere outside the city of Dubai, Arab Emirates. I do not exaggerate in saying there is no possible way to get here in a conventional wheelchair.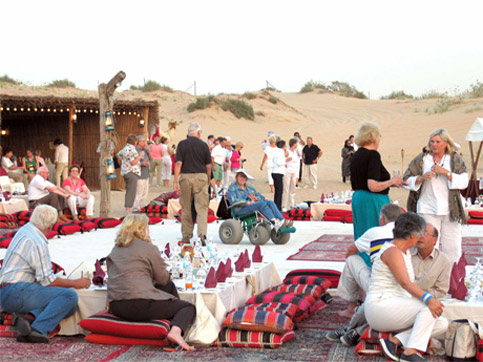 Nan and chair in middle of desert outside Dubai, UAR
Like a queen on her throne, there is Nancy in the center, awaiting the feast soon to be served. Later in the evening, when the belly dancer came out to perform, we had the best seats in the house!
When we are in the city, or wherever there are smooth surfaces and paving, I slip on the regular "street" wheels. In an environment such as this desert, or on rough, uneven terrain, I slip on the full set of "Dune Buggy" wheels. Default configuration is smaller street wheels on the back and the dune buggy wheels on the front. You will notice these different configurations throughout the book.
In addition to giving us greater access, the chair is much more comfortable to sit in. It is also substantially easier to push because the center of gravity is different than in regular chairs. I pushed Nancy up the Palatine Hill in Rome, passing people who were walking! To drive the point home (no pun intended) I want to show you another photo. This was taken up in Northern Thailand, near Chiang Mai. As you look at it, you can't help but appreciate the freedom this wheelchair provides. Nothing else is even remotely close. You will see a situation, where Nancy's chair, or any other is obviously too wide for the few planks of wood across the stream, so a few of the local tribesmen took her across in the water.
Elephant watches Nan cross a small stream in her Dune Buggy wheelchair.
The chair frame is marine grade chrome steel, and even with the large wheel configuration, as in this photo, the entire chair weighs only 36 ponds. Information about this wheelchair is available from Natural Access, http://www.landeez.com
It is not inexpensive, somewhere around $2,500.00 with the shipping, but for us, it represents the absolute best investment we have ever made in adaptive technology. Even if you never leave the United States, you can see so much more of America in this chair, as it enables you to explore places otherwise inaccessible to you. You can easily negotiate trails in any on the National parks. And for going to the beach, there is even a sent of pontoon floats you can attach to this chair, letting you take it from your vehicle, across the sand, and directly into the water.
If you Google search for "Big wheel wheelchairs", a number of possibilities are presented to you. One of the simplest is this one, a sleeked down "knock-off" of the Landeez chair. Similar designs are also manufactured in the US.
There are some important imitations to be noted, however. Most conventional chairs lift up in the middle and collapse for easy transport and storage. In the city, you can just throw them into the trunk after transfer. You cannot do that with this chair. While assembly is easy and done without tools, it is necessary to break down this chair to store it in pieces an automobile trunk or in an airplane. If it is raining and someone isn't holding an umbrella over you, you will get soaking wet while putting this chair together. Also, the tires, both sets, are inflatable, which means you MAY have flat tires occasionally, so you must carry patch kits, a tire pump, and be versed in the techniques of how to use both.
As I have gotten older, it has become more difficult to push the Dune Buggy, so I have modified it. I redesigned the rear axel and wheels, then added electric motors, controlled by a motorcycle-type hand throttle. We also designed a braking system, using bicycle type hand brakes and cables.
This turned out to be a very difficult project, as everyone feared future liability should anything go wrong and Nancy suffer injury. Also there were no "plans" to follow, and constant modifications were necessary as the project took shape. If I had to pay someone to design and build the chair today, I estimate it would cost twenty thousand dollars or more, because all the framework, axles and containment area for the electronics and batteries have to be designed, built, and installed by hand. Also remember that the power system requires motorized "hub wheels", such as used for electric bicycles. None of this is t cheap.
It has gotten easier to find motorized chairs now, but there are certain pitfalls you need to consider: In most cases, they are controlled by a joystick mounted on one of the arm rests. Nancy does not have the fine motor control to operate these. Also, most such chairs have low ground clearance and are bulky and quite heavy- in the neighborhood of 75 pounds. This makes them quite limited over rough terrain, and unpleasant to transport, load into autos, put aboard aircraft, etc. There are several choices you can make to reduce this burden. If you are considering this, we suggest you write so we can discuss your particular requirements.
The new rear frame, reinforced to hold the motors, also means I can no longer take apart and "collapse" the chair- nor can I switch the sets of rear tires. It is not a problem: Airlines no longer fight me because the chair does not collapse. They do, however, have a penchant for undoing the electrical wiring. I have now rigged the chair so they can see all the circuitry, and there is one major circuit I disconnect in front of officials so they can clearly see the motors are disabled.
Just to be sure they get the message, I have printed out directions in English, Spanish, and Portuguese: They still try to rearrange things sometimes, and I carry spare parts and controllers on every trip we take.
I feel the increased mobility and reduction in physical drain on me is well worth all costs. If you check out some of the adventures we have had using this chair, you will see what I mean.
Other modifications I have made are not nearly as involved or expensive. One of the neatest things I have done is something most of us must deal with, especially while " on the road." Toiletting. Before we got this chair, whenever my wife would get up during the night, which she is prone to do more than once, I would have to get up, haul the wheelchair over to the bed, get her up, transfer her to the chair, got to the bathroom, transfer to the toilet, transfer her back into bed, then climb back into bed myself. After all that, I would usually be wide awake, and it might take me an hour or more to fall asleep again- just about the time when my wife had to go again. I am sure many readers will identify with this.
Problem:
What can be done to ease the toilet needs of a mobility challenged person? Here is the way we worked out this problem. If this has been an issue for you, we hope the following suggestion will solve your dilemma.
Solution:
Initially, I tried a portable camp stool purchased from a local army supply store. This worked well until one time, during transfer, I did not position Nancy directly over the seat and the lightweight aluminum frame collapsed on us. Fortunately, Nancy was not hurt, but I knew better than to press our luck again! I started looking for a different solution.
As it happened, while walking through a large crafts fair one weekend, I saw a blacksmith who was forging flower pot stands. People were buying as fast as he could sell them. I told him of the problem I had with the collapsing frame and asked if he could forge me a similar frame made of iron. I brought him the frame from the campstool to use as a reference, and let him have a go at it. He made several for us to test out the thickness of the iron rods, and we were in business. Didn't cost any more than $35 or $40. I simply attached the camp stool toilet seat to the metal frame, suspended a plastic bag beneath, and we were all set. That rig worked beautifully for us for several trips. But the frames were heavy, adding as much as 12 pounds of weight for the heavy iron frame.
Then we bought the "Dune Buggy". It comes with a nylon seat and back. I ordered the wheelchair with an extra seat, and when it arrived, I took the nylon seat and the plastic camp stool toilet seat to a local dressmaker. I explained to her what I was trying to accomplish, and asked her to cut out a hole in the nylon the same size as the hole in the camp stool toilet seat. After she made these modifications, I was able to put my wife to bed, easily replace the normal chair seat with the one that had a hole cutout, place a plastic trash bag attached to the plastic seat down through the hole, and put the plastic toilet seat into position over the whole shebang. Now, when my wife gets up, we can go through the entire routine in little more time than it takes for her to actually urinate, and both of us are back to sleep in a flash! Not travel, exactly, but a great idea for solving a universal problem.
Made a similar "rig for Nancy's regular Everest-Jennings chair, hiring the upholsterer at a company which specializes in handicap equipment. I had them work in naugahyde to make a seat with a hole cutout that replaces the regular seat.
Back to the chair and its ability to get you places otherwise impossible to reach. Here is maximum extreme. We're in Antarctica, at Wild's Point The very spot where Shackleton's expedition was rescued in 1916. Just behind the rock above and to the right of Nancy's head is a bronze bust of the Chilean Captain Luis Pardo, commander of the YELCHO, who saved Sackleton's crew from certain death. I think you'll agree this would present an impossible obstacle to anyone in a conventional wheelchair. I did not even have the wide track, big wheels on the rear of the chair.
We are told Nancy is the first woman in a wheelchair to land here since the rescue nearly 90 years ago.