One night the hotel held a feast for the guests. After the sumptuous banquet our hosts put on a show of native dances, including the spectacular Fire Walk. We had never seen this done before. They had dug out a trench, perhaps a foot and a half wide, maybe fifteen or twenty feet long. The trench had been filled with glowing hot coals, so hot we had to move our seats back from them because of the heat! You could see flickering flames shooting out of them.
Nancy and I sat in utter amazement as the natives, barefoot, walked over these coals, somehow unaffected by the heat. No one screamed out in pain. No one needed to be treated for burns. How could this be?
Everyone around us said the natives must have something on their feet, or some secret way to let them walk without getting burned. Then, the Master of Ceremonies asked if anyone in the audience wanted to try. Two people stood up, took off their shoes and socks, rolled up their pants, and "walked the walk". How? We never knew.
The resort was geared mostly for swimming, horseback riding and golf- none of which interested us much. They did have a sort of play school or camp for children, and we dropped in to find a few kids with several of the councilors teaching how to weave things out of straw. Nancy has always been interested in "crafty" things, and we spent the whole morning with them, returning a number of times throughout our stay.
They made a few trinkets for us and presented them as gifts. We still have these on the wall of our living room. One of the skills they teach is the making of totem poles. Here is an example:
A little difficult to get such a lovely totem into our suitcases! Nan returns to the center and makes something a bit smaller that will fit.
Nan weaves several palm fans which we take back to the States. They are in the Great Room of our cabin in West Virginia.
One day we decided to explore beyond the resort. Got someone to drive us into Nadi Town, perhaps twenty minutes away. The driver suggested a place called Trader Jack's, a small "department store " on Nadi's Main Street that stocked all sorts of things you would never ordinarily think of buying. A real tourist trap, but not offensive. Lots of Hawaiian type muu-muus and shirts.
Picking through whatever was on display, we found an outrageously funky straw hat to protect Nancy from the strong sun.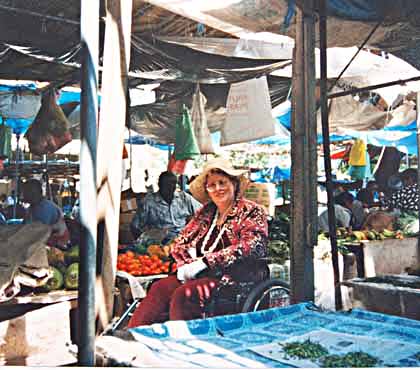 That hat has been all around the world with us, and it has gotten so beat up, I think Nan is almost ashamed to be seen in it. We have bought many other hats since then, but none do the job as well as that one from Fiji.
There is another market in the area, the Lakota market, not too far away- but then, nothing is too far away on the small main island.
It was a fun trip, and this was just the beginning. We flew next to New Zealand, landing in Auckland. You can read about it by clicking here.